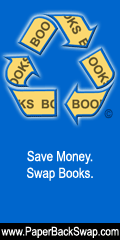 Have you heard of this?
Maybe you're like me and love to read, but instead of having the good sense to go to the library and check books out for
free
, you buy books. By the pile. And once you've read them, you pass them along to your friends or let them sit and collect dust. Passing them along to friends is cool. But this site is even cooler - you list books you want to unload, and for every book you mail to a requesting member, you get a credit to get a book from another member that you want. Membership is FREE. The only costs associated with this whole thing are shipping costs - you're responsible for paying the shipping for any books you send out. Click on the banner above and go check it out for yourself.
I listed 11 books to get rid of last night. I automatically got 2 credits (good for 2 books I want) for listing at least 10 books, and I've already unloaded 6 of those books, giving me 6 more credits to get 6 more books I want. Very cool!